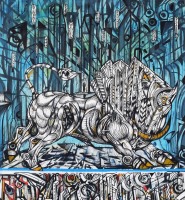 The Carrousel du Louvre will soon be welcoming Art Shopping. This large Parisian contemporary art fair returns from May 24th to 26th, 2019 to offer works by artists at studio prices. The Hotel BW Quartier Latin recommends a visit to this friendly, diverse and accessible event where art is eminently affordable. Good deals await you!
An exciting place to buy and meet
Collectors and lovers of contemporary art; get ready to reap the benefits of the 24th edition of Art Shopping, a trade fair that has been part of the Parisian contemporary art scene for more than 10 years. Accessible, lively, eclectic and daring, the event attracts nearly 10,000 visitors each year who come to browse or buy paintings, photographs, sculpture, street art or digital works. Nearly 1,700 carefully selected items are for sale. Art Shopping also allows you to meet the artists who attend the fair to explain their art, interact with collectors and encourage more and more people to get involved in this wonderful hobby. It's no wonder that Art Shopping has become a key event in the world of contemporary art.
You don't have to be rich to be an art collector
Since it began, Art Shopping has continued to fulfil its goal of making art accessible and affordable for everyone. Visitors can simply enjoy browsing the works on offer or buy an original piece of work for less than they would expect. In total, more than 800 French and international galleries and artists from around the world will be present for two days to present their work to contemporary art lovers in the convivial atmosphere of a salon. Art Shopping also plays host to artists specialising in the creation of new visual and sound experiences that could interest you ... if you have a suitable empty room to develop!
******
More information:
---
BW Quartier Latin, a 3-star hotel at the heart of Quartier Latin