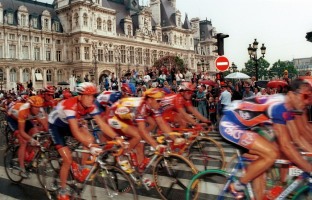 Enjoy Paris this summer in a variety of ways : Film festival, national celebrations, a major sporting event or shop 'til you drop; we have it all covered. Moreover, the BW Hotel Quartier Latin Pantheon offers a welcoming environment in a delightful district in the heart of Paris. Find the best online deals available by booking on our official website, then come and enjoy these events we've selected.
Events You should not miss in Paris this Summer
Everyone loves a movie, and there will be around 600 to choose from during the week of July 5th to 12th when the Paris Cinema Festival takes place in movie theatres across the capital. A multitude of special guests will be in attendance and there will be world premieres and special previews of coming releases. With reduced ticket prices or even free admission, this is a great opportunity to totally indulge your silver screen craving.
Allow yourself to be caught up in the national fervour of Bastille Day on July 14th. The massive military parade, the breath-taking fireworks display adjacent to the Eiffel Tower and the party atmosphere is something you really should experience.
The 3,656 hard fought kilometres of the world's most demanding cycle race culminate in Paris on July 27th as the Tour de France hits the city. Be amongst those cheering these heroic riders to the finish line along the Champs Elysees.
Meanwhile, don't forget to check out the many amazing bargains to be had in the Paris Summer Sales, which run from June 25th to July 29th. Prices are slashed ever further as the season continues so stay on the alert!
******
~oOo~
Picture copyright holder : Tourist office Paris - Photographer Amélie Dupont
Best Western Quartier Latin Panthéon Hotel, a 3 star hotel Paris