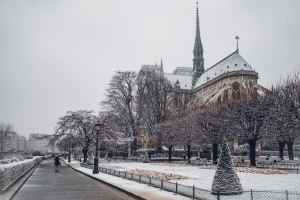 Not far from the Best Western Quartier Latin is the iconic Notre Dame Cathedral. This magnificent building will amaze you with its majestic architecture and the breathtaking view that you'll discover, 422 steps later, from the top of its towers...
Notre Dame Cathedral; a masterpiece of Gothic architecture
Located close to the eastern tip of the Ile de la Cité, an island in the Seine, Notre Dame Cathedral is not the largest of the French cathedrals but is certainly the most remarkable due to the splendour of its Gothic architecture. No wonder this monument is one of the most visited in France!
The majestic Parisian cathedral that inspired Victor Hugo to write his famous novel offers an overwhelming experience from its awe-inspiring façade decorated with a row of statues atop its three doors to its 300-foot steeple piercing the Parisian sky. Once inside, you'll be astonished by the exquisite beauty of the three large rose windows dating from the 13th century.
From the top of the towers, Paris is at your feet
No visit to Notre Dame Cathedral is complete without an ascent to the summit of the towers, where you can rub shoulders with chimeras and gargoyles, admire the great bells and enjoy an extraordinary 360° view of the entire capital. There's a 422 step climb to get up there but it's well worth it for the ultimate reward; Paris resplendent at your feet!
It takes a little effort to tackle the steps but, fortunately, three levels are arranged to allow you to take a breather en route. At the second level, step onto the Gallery of Chimères and approach the legendary gargoyles, including the famous Stryge. Then stop off a few steps before the summit to get a closer look at the belfry and its bells, including the largest, the 13 tonne Emmanuel.
Remember to book your visit in advance to avoid long queues!
******
For more information :
- Cathédrale Notre Dame de Paris
- Tours de Notre Dame de Paris
---
BW Quartier Latin, a 3-star hotel at the heart of Quartier Latin