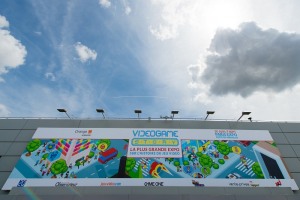 There is certainly never any shortage of superb summer exhibitions in Paris. The city is renowned for the high quality of the informative and entertaining events that are scheduled frequently. This summer is no exception and this time we would like to recommend two particular favourites of the BW Hotel Quartier Latin Panthéon's team. We go from the remote prehistoric past to the cutting edge of modern entertainment…
From the days of the Dinosaurs to Video Gaming
The giant creatures of the past live again at the Porte de Versailles exhibition centre until August 31st. From The Age Of The Dinosaurs To The Ice Age is a huge exhibition featuring some 75 life-size and animated dinosaurs and prehistoric mammals. In the first part you are introduced to the Ice Age mammals and early man. Then you step back even further, to the Mesozoic Era of 150 million years ago, to meet the fearsome beasts that lived then. All are presented in an authentic reproduction of their environment, and kids get a chance to ride on the back of a prehistoric creature!

Video about the exhibition "From The Age Of The Dinosaurs To The Ice Age"
Then move up to today and into the future with Videogame Story, also at the Porte de Versailles, until September 7th. This huge exhibition, covering some 4,500 square metres, tells the story of videogames from 1972's Magnavox Odyssey to the amazing new developments coming through right now. You can try out some blasts from the past, as 350 machines are on display, most of them playable, and have a go at some as yet unreleased games, from single to multiplayer. There's also demonstrations of virtual reality helmets and prototype accessories, and a 4K projection room where you can view trailers in HD.
******
De l'ère des dinausores à l'ère de glace : until August 31, 2014
(The Age Of The Dinosaurs To The Ice Age)
Paris Expo Porte de Versailles – Paris 15ème
Métro Porte de Versailles, ligne 12 ou Balard, ligne 8
Tramway Porte de Versailles, ligne T3
Vidéogame Story : until September 7, 2014
Paris Expo Porte de Versailles – Paris 15e
Metro Porte de Versailles, line 12 or Balard, line 8
Tramway Porte de Versailles, line T3
~oOo~
Picture copyright holder : AFJV - Photographe Emmanuel Forsans
Best Western Quartier Latin Panthéon Hotel, a 3 star hotel Paris