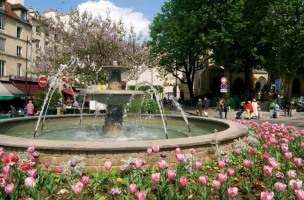 One of the oldest streets in Paris, the Rue Mouffetard has managed to preserve its picturesque ambiance and boasts an attractive mix of old signs, cafes, restaurants and lovely little shops. Let the Hotel BW Quartier Latin take you on a brief tour of this charming cobbled thoroughfare and reveal some of its secrets.
Immerse yourself in the history of Paris
This emblematic street in the 5th arrondissement, which follows the route of an ancient Roman road, is thought to derive its name from mouflettes, a derogatory term once used to refer to the odours created by the dyeing industry that flourished in the neighbourhood in the Middle Ages.
The Rue Mouffetard has existed for 2000 years to the rhythm of dyers and drapers, merchants and drinking places. In its partying heyday the street was filled taverns and cabarets where beer and wine flowed freely all the way from the Place de la Contrescarpe to Saint-Médard Church.
While strolling along this street lined with medieval houses and their hidden gardens, remember to look up and admire the old signs rich with the charm of yesteryear... You can picture in your imagination the great names of the past who once strolled here… Hemingway, Rodin, Zola and Hugo, who took inspiration from the street while writing Les Misérables...
The lively ambiance of a street where it's a joy to stroll
Today, the Rue Mouffetard has a lively ambiance and a picturesque street market; the Marché Mouffetard, where the stalls offer fresh produce every morning from Tuesday to Sunday.
The thoroughfare boasts a wealth of small food shops, restaurants and cafes throughout its length. Take the time to stop for a drink at the Place de la Contrescarpe, a square adjacent to the street. Here, a pretty fountain and café terraces provide a very pleasant setting. The Rue Mouffetard is also worth visiting if you want to add some vintage items to your wardrobe...
******
Crédit photo : © Paris Tourist Office - Photographe : Amélie Dupont
---
BW Quartier Latin, a 3-star hotel at the heart of Quartier Latin