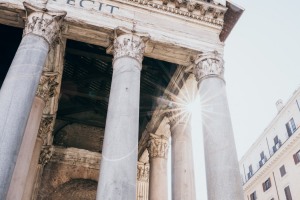 Staying at the Best Western Quartier Latin means that you'll be right in the heart of Paris, a few minutes from the Jardin des Plantes and not far from the Jardin du Luxembourg. Also easily accessible on foot from our hotel is the famous Pantheon. Perched on the Montagne Saint-Geneviève in the Latin Quarter, this magnificent mausoleum is one of the capital's most visited monuments.
A little history
Constructed over 200 years ago, the Pantheon was designed by the architect Jacques-Germain Soufflot at the behest of Louis XV. The king wanted a new church built to replace the dilapidated one dedicated to the city's patron saint, Genevieve. Soufflot had studied classical architecture in Rome and wished to create a building to rival that city's original Pantheon.
Following the French Revolution, it was decreed by the National Constituent Assembly in the late 18th century that the church should become a mausoleum housing the remains of great French citizens. Its crypt is now the final resting place of the likes of Victor Hugo, Jean-Jacques Rousseau and Voltaire, as well as Pierre and Marie Curie, the latter being the first woman to be interred there, in 1995.
Visiting the Pantheon
Today the Pantheon is open to visitors from all over the world. You'll be amazed by the stunning architecture of its dome (83 metres high), frescoes and columns. There's a replica of the famous Foucault Pendulum, formerly used to demonstrate our planet's rotation! You can also explore the crypt, where over 75 notable people (including 4 women) rest, including Mirabeau, Léon Gambetta, Jean Jaurès, Alexandre Dumas and Simone Veil. Don't miss the opportunity to climb the 206 steps to the top of the building to enjoy a panoramic view of Paris and take some stunning photos!
******
More information :
- Panthéon
---
BW Quartier Latin, a 3-star hotel at the heart of Quartier Latin