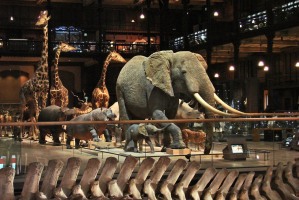 The Grand Gallery of Evolution presents its latest exhibition. Ocean; Diving into the Unknown is an exciting immersion in a mysterious and unknown abyss that covers so much of our world and yet is still largely unexplored. Discover the marine world's astonishing biodiversity and the challenges we face in probing its depths via this large new exhibition at the Muséum du Jardin des Plantes. Until January 5th, 2020.
Venture into the abyss
Although the oceans cover 71% of the surface of our planet, their world remains largely unknown due to its immensity but also because of the challenge that its exploration represents for mankind. Through the exhibition you will discover some of the many tools and techniques used since antiquity in trying to unravel the mysteries of the depths.
Fantastic creatures
The Grand Gallery of Evolution reveals some of the most amazing creatures in the world. Discover incredible zoological oddities such as the coelacanth (long considered a living fossil and previously thought to have become extinct millions of years ago), the curious squat lobster (a decapod crustacean living in the abyssal depths), and the Phromina amphipod, a planktonic organism that inspired the design of the 'facehugger' from the movie, Alien.
Preserving the oceans to save our world
The Ocean exhibition aims to highlight the role and importance of oceans for terrestrial life and demonstrate how they are vital for human health. A stunning immersive scenography coupled with interactive devices is designed to give you a better understanding of life in the depths of the ocean and the dangers caused by human activities such as overfishing and pollution. A sobering and thought-provoking exhibition to discover until January 5th, 2020!
******
More information:
- Grande Galerie de l'Evolution
Photo credit : © Jean Pierre Dalbéra on Flickr
---
BW Quartier Latin, a 3-star hotel at the heart of Quartier Latin