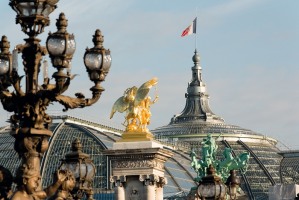 Do you prefer antique or contemporary art? Whichever way your preference lies, Paris has something to offer. The best antique and art dealers in the world will exhibit items of exceptional quality at the Biennale des Antiquaires, an event taking place at the Grand Palais from September 11th to 21st. However, if your tastes run to the more modern, then you will have the opportunity to discover all facets of contemporary design during Paris Design Week, September 6th to 13th. Follow your desires.
Two opportunities to experience Paris via the Arts
Beneath the magnificent glass dome of the Grand Palais art lovers and collectors can view treasures from the superb collections of the world's premiere art and antique dealers during La Biennale, the leading event of its kind in Europe. Organising body the Syndicat National des Antiquaires have maintained the very highest standards since 1962 and to walk amidst the exhibitors' displays is to experience the beauty, elegance and fine craftsmanship of bygone eras. In some a mise en scène provides a context to enhance the work being shown, in others the items speak eloquently for themselves.
Overlapping with La Biennale is Paris Design Week, offering a glimpse at the design world of today and the trends of the future. This free-ranging event embracing a wide field of disciplines takes place at locations across the capital. Exhibitions, shows and parties are featured in more than 180 locations and involve hundreds of participants. With over 8,000 designers living and working in Paris the event is a natural, and complements the fashion, design and arts shows that take place here in the autumn, such as Maison & Objet at the Paris Nord Villepinte. Fashion, décor, furniture, art, gastronomy; all come together beneath the design banner in Paris Design Week.
******
~oOo~
Picture copyright holder : Tourist office Paris - Photographer Marc Bertrand
Best Western Quartier Latin Panthéon Hotel, a 3 star hotel Paris