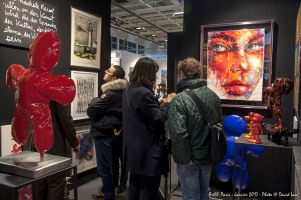 The famous Salon International d'Art Contemporain (International Exhibition of Contemporary Art) takes place in Paris from January 26th to 28th, 2018. The venue for this highly-regarded annual meeting of art lovers is the Porte de Versailles Exhibition Centre. Organised by art3f, it is open to galleries from all horizons and brings together more than 220 artists.
An art fair that's family-friendly
The Salon International d'Art Contemporain gives a warm and human dimension to the often loftily academic world of art. This cultural event offers a great opportunity to do something inspirational as a family. While the kids will be happy to join in with the art workshops in the free 'Happening Zone', parents can dine at the central bar in between browsing the galleries. In partnership with Le Géant Des Beaux Arts, the Happening Area is where the youngest artists to express themselves and let their imaginations run riot. With the children happily occupied, parents can indulge in a moment of relaxation and take the time to discover the dozens of galleries and hundreds of artists represented during this superb and wide-ranging art fair.
An essential event of quality
On the programme is the discovery of urban art, accompanied by unique and unmissable live performances. And January 26th is the date for the official vernissage of the show, beginning at 18:00. This is an opportunity to interact with the artists and share their passion for artistic creation. The occasion will plunge you into a world of elegance, rocked to the rhythm of jazz and swing. And after exploring all those fascinating spaces filled with vital contemporary works, you can relax in the VIP bar. Enjoy quality food accompanied by a selection of wines served by a sommelier, all amidst a jazz ambiance. For exceptional moments with family or friends, in the heart of modern, subversive and vibrant artistic landscapes, the Salon International d'Art Contemporain is the place to be.