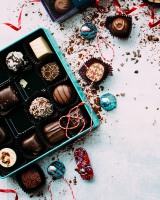 Valentine's Day is coming, so why not treat the special one in your life to a romantic gourmet outing during your stay at the Hotel BW Quartier Latin? Enjoy a visit to the Chocolate Museum - Choco Story and then look for the best pâtisseries in Paris amongst a wide selection of delicious dishes and desserts.
A romantic gourmet break
Choco-Story, the Gourmet Chocolate Museum, invites you to find out the history of the cocoa bean from ancient times and the story of the development of chocolate in Europe. See a huge collection of chocolate-related artefacts ranging from antique chocolate cups to modern machinery. Discover the fundamental principles of chocolate making, and then learn via live demonstrations how this world favourite food is produced today. You can also attend a workshop that will delight children in particular! A chef will share his passion for chocolate and invite you to sample his creations. You'll come out even more in love with chocolate than when you entered.
Pâtisseries for two to share
Valentine's Day is also the time for both of you to give in to sweet temptation! Throughout the capital, the finest pastry chefs are offering their most delicious creations and their captivating displays of pastries and desserts will break down your resistance.
The world-famous Pierre Hermé has opened no fewer than 10 shops in Paris to the delight of the capital's gourmets. Frequently referred to as the best pastry chef in Paris, his chocolate pastries are guaranteed to seduce.
The Pâtisserie des Rêves (Cake Shop of Dreams) is aptly named! Enjoy lovingly prepared cakes whose sweet and gourmet taste notes will follow you into your dreams.
We cannot speak of the best pastries in Paris without mentioning the boutiques of Cyril Lignac. Our recommendation? His famous Equinoxe gateau. It's as beautiful as it is good!
Treat yourselves to special gourmet moments for two on Valentine's Day.