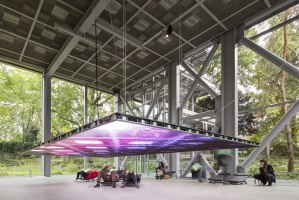 This year the Cartier Foundation, one of the foremost contemporary art museums, celebrates 30 years since it burst upon the arts scene. To mark this significant milestone a wide range of events has been scheduled, including two major new art installations that look back on the Cartier Foundation's history and also serve to restate the purpose and ideals of this well-regarded institution. As a guest of the Hotel BW Quartier Latin Panthéon, you will be within a few Metro stops of these anniversary celebrations.
Three decades of excellence from the Cartier Foundation
The renowned Cartier organisation, creators of exclusive and prestigious jewellery and timepieces, established the Fondation Cartier on October 20th 1984. The company's intention was to provide an exhibition space where work by both well- known and also relatively unknown creative artistic talents could be presented to the public and the art world. The Foundation also set about purchasing works to grace its permanent collection.
In 1994, demonstrating a devotion to its ideals, the Cartier Foundation moved to a new building designed specifically by the award winning architect Jean Nouvel. Here artists have the space to present work on a larger scale. Included are sizeable artworks such as The Monument To Language by James Lee Byars and The Aviary by Jean-Pierre Raynaud. The Foundation currently holds over a thousand pieces of art by some thirty artists, including Raymond Hains and Jean (Moebius) Giraud and continues to demonstrate a progressive attitude towards exhibitions.
A fascinating pair of anniversary projects are on show at the Cartier Foundation until February 22nd. The Inhabitants provides an artistic perspective on the Foundation's history and boasts contributions from a number of well-known artists including Patti Smith and David Lynch. Meanwhile, Musings On A Glass Box occupies an entire level of the building and provides an immersive environment working in tandem with the building's architecture.
The cultural richness of Paris will let you appreciate contemporary art at the Fondation Cartier, but also Sacred Music concerts in one of the oldest structure in the capital, the iconic Notre Dame Cathedral.
The joy of Sacred Music at Notre Dame de Paris
Few things in life are as stirring and uplifting as the beauty of sacred music performed in magnificent surroundings. Thanks to the Notre Dame Choir School and the Musique Sacrée at Notre Dame de Paris, one of the most renowned Parisian landmarks is a place that often reverberates with heavenly music. Amidst the gargoyles, flying buttresses and soaring French Gothic architecture of Notre Dame Cathedral you can exult in divine music sung by choirs that can trace their origins to the 12th century. Just a short stroll from the Hotel BW Quartier Latin Panthéon you will enjoy sacred music of the highest standard.
******
Exhibitions until February 22, 2015
Musings on a Glass Box : Diller Scofidio + Renfro, en collaboration avec David Lang et Jody Elff
Les Habitants : Guillermo Kuitca, Vija Celmins, Guillermo Kuitca, David Lynch, Artavazd Pelechian, Patti Smith
Fondation Cartier pour l'Art Contemporain - 261, boulevard Raspail, Paris 14e
Tel. 0033 (0)1 42 18 56 50
Metro : Raspail or Denfert-Rochereau, lines 4 and 6 / RER B : Denfert-Rochereau
~oOo~
Picture copyright holder : View of the exhibition Musings on a Glass Box, October 25th, 2014 – February 22nd, 2015, Fondation Cartier pour l'art contemporain, Paris - Photographer © Luc Boegly
Best Western Quartier Latin Panthéon Hotel, a 3 star hotel Paris