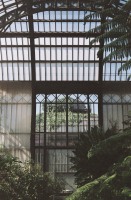 While enjoying a stroll amidst the tranquillity of the Jardin des Plantes, don't miss the opportunity to visit the Grandes Serres. These are this national botanical garden's majestic greenhouses and they offer an exceptional journey through the world of plants during your stay at the Hotel BW Quartier Latin!
The Jardin des Plantes; the main botanical garden of France
An exquisite 24-hectare botanical garden located in the heart of the capital, the Jardin des Plantes is a must-see. Here you can find the exceptional heritage collections of the National Museum of Natural History of which the Jardin des Plantes remains the historic heart and one of the main attractions.
The Jardins des Plantes presents a colourful, fragrant and ever-changing spectacle throughout the year, with plenty of flowering and fruiting. While in the vicinity you can also discover the museum's historic galleries, including the Grand Gallery of Evolution, the Gallery of Paleontology and Anatomy, the Gallery of Mineralogy and Geology, as well as the Zoo and the Grandes Serres, classified as a historic monument since 1993.
The Grandes Serres; the biodiversity of the plant world in Paris
Architectural works of art dating back to the mid-19th century, each of the four Grandes Serres hosts a different environment. One houses the tropical and subtropical plants of the mangrove swamps, savannah, dry forest and rainforest of New Caledonia. This archipelago at the end of the world has a very specific flora; 75% of the species there exist naturally nowhere else. Another greenhouse is designed to support the drought-tolerant plants of the world's deserts, while a third is kept hot and humid enough to sustain the lush vegetation of the tropics. The last of the Grandes Serres tells of the evolution of plants, a story reaching back hundreds of millions of years.
******
More information :
---
BW Quartier Latin, a 3-star hotel at the heart of Quartier Latin