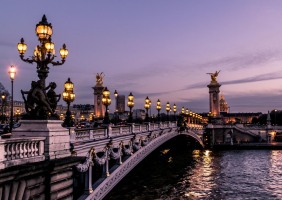 Bridges are such evocative structures, offering a crossing point from one experience to another, while being themselves places of interest. Paris boasts 37 bridges spanning the thirteen kilometres of the Seine winding through the capital, each with its own character. Discover them when you stay at the Hotel Best Western Quartier Latin.
Iconic Parisian bridges
They are true urban icons. The Pont-Neuf (New Bridge) is, despite its name, the oldest Seine bridge, having witnessed almost 450 years of Parisian history. The Pont de l'Alma has an emotional resonance as it stands near the tunnel where Diana, Princess of Wales died in a car crash in 1997. The Beaux-Arts-style Pont Alexandre III is an exuberantly opulent bridge as France was thinking on a grand scale at the time due to the upcoming Universal Exposition of 1900.
Paris life and its bridges
The capital's bridges are an integral part of Parisian life. They are places of passage, locations for a stroll and great spots for a lunch break or even a photo shoot. Like the Bridge of Sighs in Venice, the Pont des Arts has the reputation of welcoming lovers who delight in pausing there on fine days to contemplate the Seine. The Pont Marie, which connects the Marais to the Île Saint-Louis, once had houses along its length. Many were destroyed in a 17th century flood.
Beautiful views of Paris
From the vantage points of the bridges of Paris, you can watch the gently flowing Seine in the changing light as the sun rises to its zenith then sinks in the sky. You will also enjoy great views of the capital's most beautiful buildings. Take the Pont de Sully, not far from the Best Western Quartier Latin, for example. This bridge is famous for its clear view of the Île Saint-Louis quays and the eastern side of the magnificent Notre-Dame Cathedral. And if you want to contemplate the Eiffel Tower in all its majesty, head to the Pont Bir-Hakeim, a two-storey structure built in the early 20th century.
******
---
BW Quartier Latin, a 3-star hotel at the heart of Quartier Latin