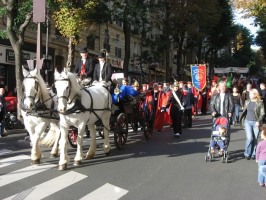 Looking for an excuse for a Parisian getaway? The Montmartre Harvest Festival, an event rich in entertainment, joyous celebration and great wine and food, provides the perfect opportunity. Held from October 8th to 12th this is a wonderful festival that is highly recommended by the BW Hotel Quartier Latin Pantheon.
The secret vineyard on the Butte of Montmartre
A walled secret garden stands atop the hill of Montmartre, its presence unnoticed and unsuspected by many passing tourists.
Originally planted by the Roman settlers in the area, there was once an abundance of vineyards on Montmartre. In the Middle Ages the butte was an acknowledged wine producing area. However, the urban growth of Paris all but wiped out this tradition in the 19th century. Then, in the early 30s, wishing to deter anyone who might be planning to build on a small third of an acre plot of land close to the Sacre Cœur Basilica, the city authorities established a vineyard there. Gamay, pinot noir and some hybrid vines have been growing on that spot ever since. Each year the harvest and production of around 1,000 to 1,500 bottles of wine from the Clos Montmartre vineyard is celebrated in fine style.
The Fête des Vendanges, or wine harvest festival offers a glorious, and immensely popular, opportunity for several days of fun. There's a big parade of the wine and gastronomy societie, brass bands, a spectacular musical fireworks display close to the glorious Sacre Cœur Basilica, exhibitions and concerts. More than a hundred stalls are set up, offering all manner of goods from handicrafts and arts to regional foods and artisanal delicacies. You can also taste wines from all over France and much of the rest of Europe.
******
Montmartre Grape Harvest Festival: October 8-12, 2014
on the Montmartre Hill
Detailed information in the official website
~oOo~
Picture Montmartre Harvest Festival 2006' copyright holder: Photographer Cyril LG - flickr_CC_BY_2.0
Best Western Quartier Latin Panthéon Hotel, a 3 star hotel Paris