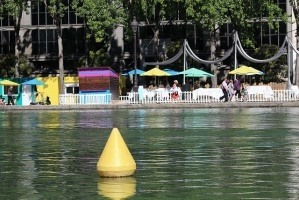 Are you taking a holiday in Paris this summer? Book your room at the Hotel BW Quartier Latin today. And don't forget your swimsuit, because Paris Plages (Paris Beaches) returns for summer 2020 from July 18th to August 30th. Read on to discover what's happening.
Paris Plages 2020: total relaxation on the banks of the Seine
When the summer sun shines on the banks of the Seine, it's time to relax by the water, cool off in the mist garden or take part in an outdoor tai chi session. Various kinds of construction and board games are available so adults and children alike can have fun. The Seine-side beach is open every day between 10:00 and 18:30.
Swimming and water sports in the Bassin de la Villette
The activities are based around sport and exercise in the Bassin de la Villette. Energy arts, swimming, pétanque, table football and kayaking await you. There's also plenty of entertainment for the kids, too, with special games and other activities laid on at the Children's Club, the Ludomouv mobile open-air toy lending service and the library. The beach is accessible Monday to Friday from 10:00 to 22:00 and Saturday and Sunday from 10:00 to midnight.
The first cinema on the water
Paris Plages 2020 also brings you the chance to participate in an unusual cinematic experience. It's a free screening of the film Le Grand Bain that the audience will watch from separate boats afloat on the Bassin de la Villette, thereby ensuring social distancing. Attendees will be selected by raffle.
Some precautions
Due to the ongoing health crisis this summer, hygiene measures have been put into place regarding swimming. Please read up on these before attending Paris Plages 2020. Book your stay now at the Hotel BW Quartier Latin and have a fun, and safe, summer at the beach.
******
More information:
Crédit photo : © Wikimedia Commons - Lionel Allorge
---
BW Quartier Latin, a 3-star hotel at the heart of Quartier Latin