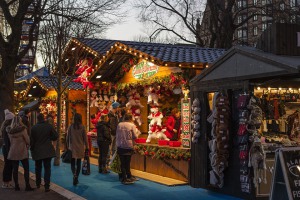 So you can make the most of Christmas and the end of year celebrations in Paris, the Hotel Best Western Quartier Latin is pleased to introduce you to the finest Christmas Markets the capital has to offer. Surrender yourself to the magic of Christmas in Paris, the City of Light! And, if you want a break from all the festivities, you could check out the Paris Boat Show, which will take place from December 2nd to 10th, 2017, at the Porte de Versailles Exhibition Centre.
Very close to the hotel, the Notre Dame Christmas Market is held throughout the month of December on the forecourt of the famous cathedral. Some 40 artisans and craftspeople from all over France present a wide range of items fashioned by their traditional skills. It's always a joy to stroll through the aisles of this charming market, browsing the goods while sipping a mulled wine. Not far away, the flower market is adorned in its festive finery and the selection of plants and flowers will give you plenty of Christmas decoration ideas.
On the other side of the Seine, on the Left Bank, browse the booths of the second-hand book dealers to find something to read in the warmth of your room at the Hotel BW Quartier Latin. When you reach the Boulevard Saint Germain, check out the Saint-Germain-des-Prés Christmas Market, which stretches from Saint Germain Church to Mabillon. Rub shoulders with artists and intellectuals in this literary district of Paris. In the direction of Montparnasse, the shop windows of the Rue de Rennes compete to present the most beautiful and imaginative Christmas displays. Each one is a tempting invitation to step inside. You'll find yourself spoiled for choice by the wonderful Christmas shopping opportunities to be found around our hotel!
Prepare for summer at the Paris Boat Show, Porte de Versailles, December 2nd to 10th, 2017
Lovers of romantic cruises, fans of adrenaline-fuelled water sports, adventurers, dreamers or the simply curious, there's a place for you all at the international Nautic Paris Boat Show. For 8 days in early December this huge trade show brings together a vast selection of vessels, including sailing boats and motorboats, along with board sports, new technologies and equipment, tourism and fishing, plus exhibitions and events. Family-friendly and open from 10:00 to 19:00 with a late opening until 22:00 on Friday, December 8th, the Nautic takes place in the state-of-the-art Porte de Versailles Exhibition Centre and even beyond, as the Seine becomes the venue for water sports contests! Don't miss the Nautic Street Fishing and the Nautic SUP Paris Crossing, the world's first Stand Up Paddle competition! You can also try wakeboarding in the Boat Show's own pool, and long-time boating enthusiasts will certainly want to admire the famous vessel of Eric Tabarly, one of the greatest French sailors; the Pen Duick III.