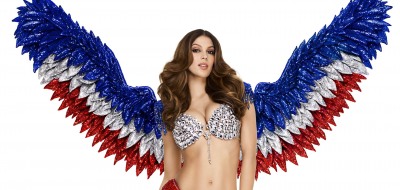 The Paradis Latin presents a kaleidoscopic flurry of feathers, glitter and rhinestones... L'Oiseau Paradis (The Bird of Paradise), the revue featured by the famous Parisian cabaret since May 2nd, 2019 transports you to a world of glamour and spectacle. Talented performers accompany former Miss Universe Iris Mittenaere in this wonderful adventure born of the talent and creativity of Kamel Ouali.
A legendary venue for an exceptional show
A feathered flight of sensuality, elegance, glamour, excitement… An original, colourful and spectacular show is what you can expect when you go to see L'Oiseau Paradis, the latest production of the oldest Parisian cabaret. A mix of classic and modern entertainment, it succeeds in showcasing the talents of the various artistes while remaining faithful to the Paradis Latin tradition. And, of course, there's a performance of the famous French Cancan!
Iris Mittenaere is wonderful in The Bird of Paradise
The legendary Paradis Latin could not have a better star attraction than Iris Mittenaere. This beauty queen has for quite some time been demonstrating her talents as a dancer in the various events, shows and performances she has graced with her star quality. Iris is accompanied by a troupe of thirty dancers with whom she has real chemistry. Also participating in the show are singers, comedians and acrobats.
Their talents are matched only by the quality of the exceptional sets designed by Alain Lagarde, the splendour of more than 500 specially created costumes and the quality of the special effects produced by cutting-edge technologies. A breathtaking show not to be missed!
Book your stay at the BW Quartier Latin now. You'll be conveniently located only 500 metres from the Paradis Latin! Benefit from our best rates by booking directly on our official website. See you soon in Paris!
******
More information:
---
BW Quartier Latin, a 3-star hotel at the heart of Quartier Latin