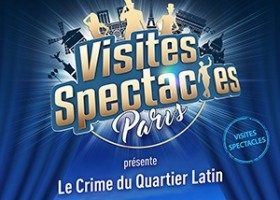 Exciting, exhilarating, captivating, the Visites Spectacles invite you to see a different side of Paris. Created by enthusiasts of culture, history, theatre and crime mysteries, these guided walking tours of picturesque Paris featuring professional actors will enchant and thrill you. Be on your guard, because a crime has been committed in the Latin Quarter...
The districts of Paris as you've never seen them before
Blending live dramas and guided tours, the Visites Spectacles are performed by professional actors. They take place against the backdrops of the prettiest and most picturesque neighbourhoods of Paris and offer you a dramatic and fascinating trip back through time. Throughout this journey you will encounter intriguing characters in period costumes whose tales, told with verve and humour, unfold before your eyes and keep you enthralled for up to two hours. We invite you to come along with your family or friends and enjoy a unique experience in the heart of the historic 5th arrondissement, where the Pantheon, the Bibliothèque Sainte-Genevieve, the Sorbonne University and the Cluny Museum form the settings for spellbinding stories.
A young student has just been murdered ...
Why was Iris Levert murdered? Why did the murderer use a Merovingian axe that once belonged to Clovis, King of the Franks? Did this young student learn a secret she was not meant to know? So many questions, all of which will be answered during the Visite Spectacle called The Latin Quarter Crime. The mystery begins at the Bibliothèque Sainte-Geneviève on Saturday evening at dusk and lasts for ninety minutes. Budding sleuths gather at 21 Place du Panthéon, in front of the gates of the monument. Groups are limited to forty people. The show is not suitable for very young children. Book your place today.
******
More information:
Photo Credit : © Visites-Spectacles
---
BW Quartier Latin, a 3-star hotel at the heart of Quartier Latin