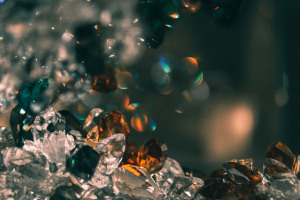 Paris is an old city that can trace its origins back to the time of the Roman Empire. The 5th arrondissement, the oldest district, has most of the remains dating from this period. It's also home to the Best Western Quartier Latin. During your stay in the welcoming environment of our hotel, you can experience the district as it is today: modern and cosmopolitan. We particularly recommend the Van Cleef exhibition at the Muséum National d'Histoire Naturelle (National Museum of Natural History), and a visit to the Great Mosque of Paris.
Precious Stones, from Minerals to Jewellery, at the National Museum
At the heart of the Jardin des Plantes is the historic heart of the Muséum National d'Histoire Naturelle. This venerable museum is currently hosting in its mineralogy gallery a stunningly beautiful exhibition called Precious Stones, from Minerals to Jewellery, which looks at the gems and minerals created in the depths of the Earth and how they come to be fashioned into jewellery. Among the 500 artefacts on display are examples of jewellery dating from prehistory to the present day, all drawn from the museum's collection. There are also hundreds of items on loan from Van Cleef & Arpels, one of the famous fine jewellery brands located on the Place Vendôme.
The Great Mosque of Paris is open every day
Directly adjacent to the Museum, the Great Mosque is one of the places in the 5th arrondissement that you must not miss. The oldest mosque in mainland France, it was opened on July 15th, 1926 under the rectorship of Kaddour Benghabrit. Occupying a site of 7,500 square metres, it was inspired by the al-Qaraouiyyîn mosque/university in Fez, its architecture incorporating both Moorish and Almohad styles, as demonstrated by its 33-metre high minaret. You can visit the Great Mosque from 09:00 to 18:00 every day except on Fridays and Islamic holidays.
******
More information:
- Muséum d'Histoire Naturelle
- Grande Mosquée de Paris
---
BW Quartier Latin, a 3-star hotel at the heart of Quartier Latin