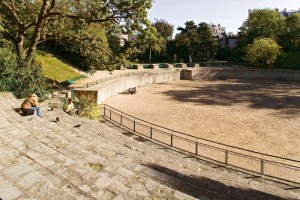 Here at the BW Hotel Quartier Latin Panthéon we are indeed fortunate to be located close to some of the loveliest and most fascinating gardens in Paris. The Jardin du Luxembourg is a pleasant fifteen minute walk from the hotel. The Jardin des Plantes, the chief botanical garden in France and the location of the Natural History Museum, is just a five minute walk away, as are some significant Roman remains. Let us tempt you into visiting these places…
The many attractions of the gardens in Paris
Established by Marie de Medici, regent for King Louis XIII in the early 17th century, who wished to be reminded of the setting of the Pitti Palace in her native Florence, the Jardin du Luxembourg is the second largest of the public parks of Paris. The garden boasts extensive lawns and a magnificent array of over 100 monuments, statues and fountains. Amongst the latter is the exquisite Medici Fountain, named for the strong minded woman whose edict brought the garden into being.
The Jardin des Plantes can trace its history back to 1626, when it was a royal medicinal herb garden. In 1795 a small zoo was established, stocked with animals taken from the royal menagerie of Versailles as a result of the French Revolution. This zoo still exists and has since been joined by the Museum of Natural History and its impressive collections divided amongst galleries devoted to Evolution, Mineralogy, Palaeontology and Entomology. Also within the grounds are winter and alpine gardens and greenhouses of tropical plants.
A tantalizing glimpse into the Gallo-Roman past of Paris can be had at the Arènes de Lutèce (Lutece's amphitheatre). This important historical site once championed by Victor Hugo is a first century A.D. amphitheatre that was once used for both theatrical performances and gladiatorial combat. It would have seated 15,000 spectators and to stand there today is to be transported to an enthralling, if often brutal, past.
The past and the future at Summer Exhibitions in Paris
Two exhibitions at the Porte de Versailles will take you on a journey into the dim mists of the remote past and then plunge you into the world of today…and tomorrow! From The Age Of The Dinosaurs To The Ice Age brings back the huge creatures of those eras via life-size animatronics and interactive displays. Then Videogame Story whisks you from the debut of commercially available video games in 1972 all the way to those that will be with us tomorrow. Play the many old and new games available and check out the upcoming accessories and watch previews of games still under development.
******
Jardin du Luxembourg : Paris 6e
Access : place Edmond Rostand, place André Honnorat, rue Guynemer, rue de Vaugirard
Metro : Odéon, lines 4 et 10
RER : Luxembourg, line B
Jardin des Plantes du Muséum d'histoire naturelle : 57 rue Cuvier, Paris 5e
Metro : Gare d'Austerlitz line 5, Censier Daubenton line 7, Jussieu ou Gare d'Austerlitz line 10
RER C Gare d'Austerlitz
Arènes de Lutèce : 49 rue Monge, Paris 5ème
Métro Cardinal Lemoine, line 10
~oOo~
Picture " Lutece's amphitheatre "copyright holder : Tourist office Paris - Photographer Marc Bertrand
Best Western Quartier Latin Panthéon Hotel, a 3 star hotel Paris